This blogpost is part of a paid collaboration with Netflix Nordic
In this blogpost I offer some winter camping advice that I've learnt over the years in the army and during my own outdoor adventures. I also share the gear I bring in my backpack to my winter camping adventures, scroll down for the complete list.
Without mosquitos and basically guaranteed solitude, a hike through winter wonderland can be magical. You just need to keep a few things in mind and remember to take care of yourself.
I believe that correct preparation can ensure that your winter tour goes smoothly but your prep and training will also enhance the possibility of survival if shit hits the fan. Learning outdoor techniques and practicing with my equipment are parts of this. I keep a kit in my car including snow chains and a Bug Out Bag.
Snow-camping: which tent and how to pitch camp
First and foremost, before camping in the snow make sure you are familiar with your equipment. Practise at home and in nearby forests preferably during the summer or in good conditions before heading out to the alps. Or, camp with a guide or a knowledgable friend during your first winter tour.
Especially in harsh situations, stressing out is easy. In the army I get plenty of opportunities to practice keeping calm and carrying on. If you don't have this experience, refrain from heading out solo and increase the "harshness" of your adventure step by step. A course to increase your skills might be sound investment.
Picking a secure campsite
Avoid avalanche terrain! Pick a spot without steep slopes nearby and make sure you check avalanche warnings in your area. Read more about this topic and consider enrolling in a course.
A warm campsite during winter? It'll be warmest on outcroppings above valley floors and on small hills and so on since cold air flows downward. If there is not much wind, it can actually be colder in the forested valley compared to above the tree line. Morning sun is nice during winter but I avoid it during summer camping. Try to brush off your clothes before going inside. Keeping yourself and your gear dry will make everything more comfortable.
Look up. Check for dead branches that could fall on you as well as snow covered trees. Don't pitch the tent right underneath though you might want to use the trees as a wind shield.
Sheltering yourself from the wind. Create a wind buffer with a tarp or build a snow wall. Or use trees or boulders. Pitching the tent with the "smallest" side toward the wind is also good. Use blizzard stakes to secure your tent.
Stomp out a platform in the snow. Let it freeze. Then pitch your tent and dig out the apse. You can also dig down a few feet in the snow before stomping if you are in a windy area. As mentioned above, a wind wall can also be built using snow.
Food and drink during winter hikes
Melting snow for water. You don't have to carry that much water if there is fresh snow available but melting it uses a lot of fuel. Finding running water is great, but be careful not to slip in.
Eat and drink before you feel the need. During winter it might be hard feel hungry and thirsty but your body need fuel. Thus, eat and drink even if you are not hungry. Bringing something tasty increases the likelihood that you actually it. Plenty of hot chocholate is nice!
Eat a lot! When it is really cold the body burns through calories like crazy so make sure to refill the system. You need to stay energized, otherwise it is much harder to make the right choices and focus on the right things. Thus your cozy winter tour can quickly turn dangerous. Do not underestimate the cold climate!
Which stove for winter usage? I use a liquid fuel stove if it is really cold. Otherwise, make sure to use winter gas if you have a gas stove but know that even this might not work if it is very cold. Check the recommendations for your stove or consider purchasing a multi fuel version.
The right state of mind when winter hiking
Picking up a skill and then doing it a hundred times over… That makes it a lot likelier that I'll act accordingly when something goes wrong or if I am cold and hungry. Thus, I repeat skills over and over again in different conditions and I try to take care of myself so that I stay sharp and aren't tempted to cut corners.
It sounds easy but it can be surprisingly hard to force oneself to change socks, to eat when you just want to fall asleep or to keep going instead of giving up. "Take the right action" is my mantra in during outdoor adventures.
What to bring when winter camping
Here is a list of what I bring when winter camping a few nights. The amount of food and fuel varies naturally. I wear one set of merino wool undergarments and long johns/sweater etc under the hiking pants and bring plenty extra socks. I got used to carrying a first aid kit in my pocket in the army. I have one in my pocket and one larger one in my backpack.
I have written the brands I use for the curious ones but the principle is to wear one set of clothes when being physically active and another set when sleeping. Always bring a thick jacket and pants to put on during breaks. In addition I often bring a power bank, camera and phone.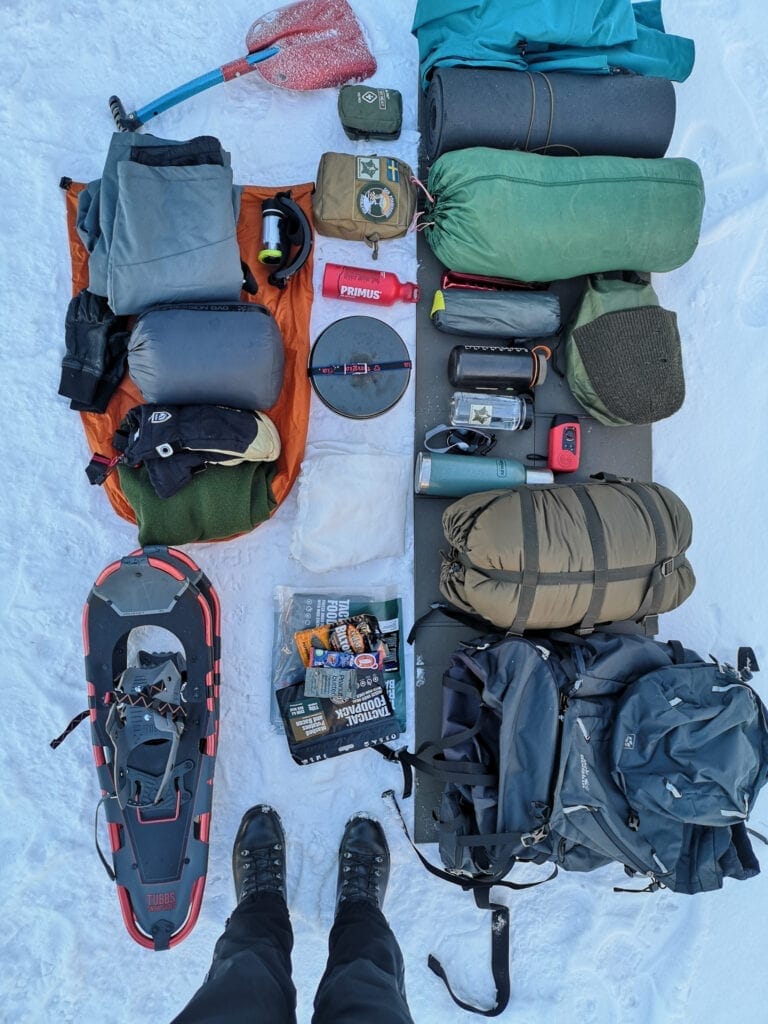 1. Snow shovel
2. Thermal pants
3. Ski glasses
4. Tent lantern
5. Leather gloves
6. Down jacket from Haglöfs
7. Mittens from Hestra
8. Wool sweater (old one from the army…)
9. Snowshoes
10. First aid kit
11. EDC kit with knife from Morakniv, fire steel, snacks, matches etc.
12. Fuel
13. Stove from Trangia
14. Snow/wind pants from Röda Stjärnan
15. Food and snacks
16. Jacket
17. Sleeping mat
18. Tent Hilleberg Nammatj GT
19. Inflatable sleeping pad from Jack Wolfskin
20. Nalgene bottle
21. Helikon-tex bottle
22. Headlight from Bio Lite
23. Radio from Röda Stjärnan
24. Thermos from Stanley
25. Wool cap (one to wear during the day, one to sleep in)
26. Drybag with merino wool long johns, sweater, extra socks and underwear
27. Sleeping bag Defence 6 from Carinthia Pro
28. Backpack from Jack Wolfskin
29. Large orange drybag from Helikon-tex
30. Boots Haix Tibet